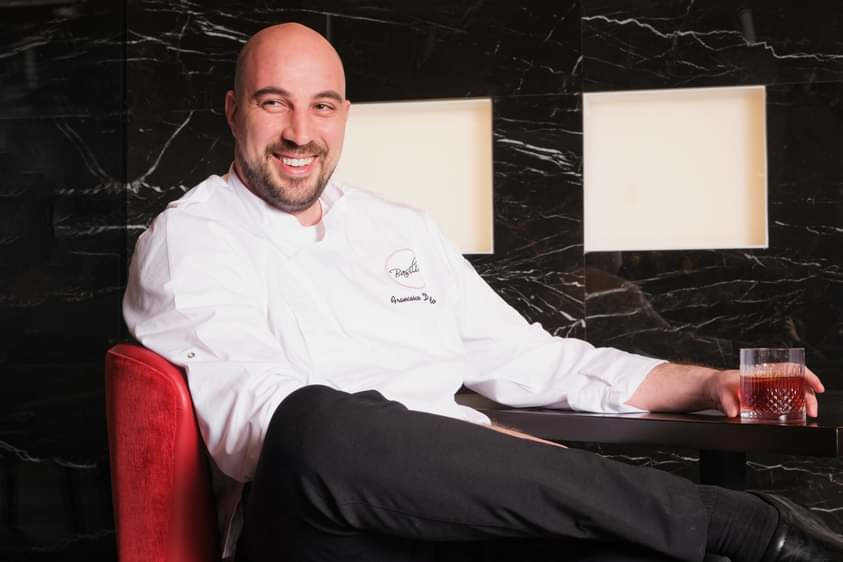 Lead photo: chef Francesco Di Caudo
I took a five-day journey to Las Vegas for several reasons, but Vegas was not on my preferred destination list. I was on a book tour at several locations, which had been scheduled months ago; and my friend and I needed a short vacay and decided to spend an additional two and a half days discovering the newer Vegas.
I last visited Vegas for a conference in January of 2010; the time before that was in the winter of 1999, and my first time was in 1986. A visit to Las Vegas once a decade is enough for this reporter. Since 2010, the Strip has become a lurid destination in and outside casino life, while luxurious hotels and a plethora of the best New York restaurants compete for the attention of gamblers and tourists alike.
My companion and I are not gamblers, so we decided to "play" only five dollars daily on the penny slots. That turned out riotous as we won and lost ridiculous amounts, such as $0.40. Besides the book tour, we made dinner reservations at a highly touted new Italian restaurant, two nightly shows, visits with friends and relatives, and chill time far away from the gambling floor.
Hotel Scene
Let's start with the hotels. We stayed at the renovated Sahara, a bit off the Strip and the last stop southbound on the Monorail. The Monorail took less than seven minutes to walk from the hotel. The train loops around the Strip, depositing you at each stop near a cluster of hotels. It's cheap, an RT ticket is $5.50, and a day pass is $13.50 for unlimited stops. The Sahara is one place I will never forget.
We arrived early and had to check our bags with the bellhop for a fee. I'm used to traveling to hotels that keep your bags for free. This was not a good start. The room we stayed in did have the two Queen beds, but here's a list of what it didn't have: closet space or hangers, drawers, or a safe. There was no coffee maker, minibar, or microwave. The meager amenities were for one person, not two. Soiled towels were not replaced, and one night, we phoned for new ones but wound up sharing a previously used bath towel.
There are six elevators, and at any given time, only two were working, but mostly only one. It caused delays of waiting up to fifteen minutes to get up or down. I thought that was a fire hazard.
We wished we had booked the Cosmopolitan instead of the Sahara. Upon entering the black marble lobby, I was impressed with the tall bookcases of glass that extended to the ceiling, filled with actual books. It reminded me of the Tate Modern in London. A retro telephone was nested on a table between a royal velvet upholstered Victorian couch. Small touches like these are made for extravagance.
Food Scene
On the second floor, an upmarket food court with just the type of eats I like made it difficult to choose from. We settled on a sushi counter called the Tekka Bar. Sharing the spicy tuna, salmon, and yellowtail roll was a good choice since we had indulged earlier in the day. The nori was crisp and fresh, and a machine I had never seen before made them. The nori was laid down, rice and fish or another type of filling was added by human hand, and then the machine did the rest. The fish was clean, fresh, and better than most places that pass themselves off as authentic Japanese food.
We had the great fortune of discovering Basilico Italian Restaurant in the growing Evora upscale neighborhood of Las Vegas and felt like school girls giggling at our find. Except it packed an entire crowd since its opening in May, so obviously, we got to the party a little late but not too late since May was the soft opening.
Before I write anything else, let it be known that Sicilian-born chef Francesco Di Caudo (lead photo) deserves one Michelin star! He has been leaving his mark on the Vegas food scene for years and was named the 2023 semi-finalist for the James Beard Award.
He has served in the kitchens of Bellagio, Sinatra at Wynn, Canaletto at Venetian and Ferraro's and in Paris and Rome before coming to the USA.
Let's dig in.
Basilico serves antipasti, pizza, pasta, meat, fish and dessert. Now that sounds rather plebian however don't be fooled. We had an array of the best appetizers including the Smoked Cigar duck mousse. The cigar was made from a deep fried eggroll or dumpling wrap and filled with delectable mousse, served on an ashtray where the "cigar" could be dipped into a sesame truffle salt ash. The idea of a cigar may not sound appealing, and as a non-smoker who quit decades ago, I cringed at the naming. However once I dipped it into the salt the explosion of textures and flavors won me over. Besides, I've never tasted nor seen this concept anywhere else.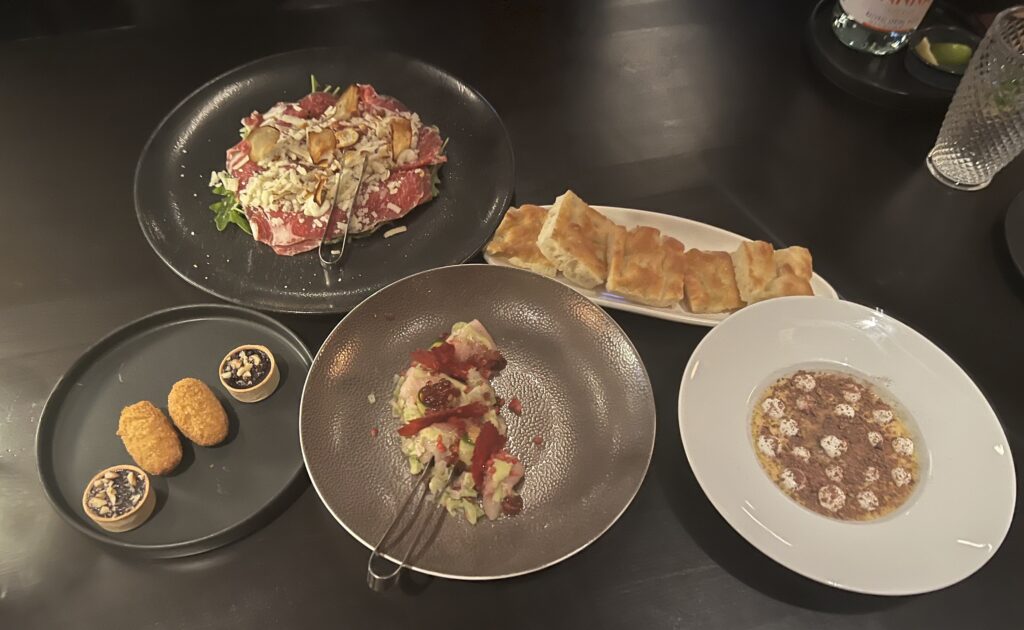 Next up was the house recommendation of Beef Carpaccio made with wagyu, and sprinkled with sunchokes, layered like truffles, Grana Padano cheese and arugula. Gertrude Stein once said, "A rose is a rose, is a rose". Well a beef carpaccio is not a beef carpaccio until you've tasted this juicy, medium sliced, marbled wonder. Hamachi Crudo (yellowtail) was adorned with cucumber, raspberry, and golden caviar, subtle enough to admire the fattiness of the yellowtail without compromising the intense flavors surrounding it. Foiemisu Fig Jam was served in a ramakin and presented like an American Thanksgiving dish of mashed yams with marshmallow in that the mascarpone surrounded the foiegras and toasted cocoa nibs melted on top. I'd like to change Chef Di Caudo's first name to Inspirational.
While we waited for our entrees our attention was drawn to the live music –  jazz musicians and lead singer Savannah Lynx singing "Masquerade" and Amy Winehouse renditions. Her exquisite vocal range ran the emotional gamut from gritty to coy as she cascaded from jazz classic to jazz modern. Lucky for us she performs on Thursday evenings, the night we were present.
On to the main events. I ordered the Cavatelli Norchina made with fennel seed sausage ragu. This dish is on most high end New York or LA Italian restaurants and you might ask so what made it unique? There had to be between 4 – 5 ounces of sausage on the plate, with just as much cavatelli. The aroma of fennel with the slightest hint of tomato, and melted sottocenere cheese was addictive. The hard cheese was slightly bitter and blended in smoothly. There was too much to eat and I wanted to take it home but alas, no time to eat it while on the road. My friend ordered the 32 yolk Tajarin spaghetti with artichokes, cinnamon, and Kaluga caviar.
I took a forkful. It was too rich for my taste.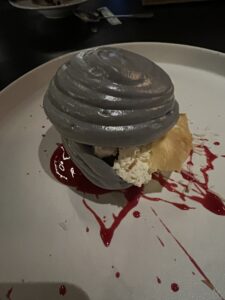 With the red Piedmonte and the white wine that tasted like clouds and bergamot with a yuzu flavor we were stuffed. Then wowed. The charcoal based and gray colored meringue was a sight for sore eyes. Splashed with raspberry coulee and filled with diced mango and pineapple, I didn't even want to touch it. Such a work of art was meant to be seen not tasted. Yet I gave in and savored the end to a fantastic meal.
Basilico located at: 6111 S. Buffalo Drive #100, 702-534-7716
Links to hotels mentioned in this article.
https://www.saharalasvegas.com/
https://www.cosmopolitanlasvegas.com/
https://www.cosmopolitanlasvegas.com/restaurants/tekka-bar
Photo credit for food at Basilico: Janet Bernson